Our neighborhood
An Albert Heijn store in the neighborhood - we would like everybody to be happy about that. This is why we are working on cleaner and safer areas wherever our stores are to be found. We pursue this goal actively and it is reflected in all sorts of activities. As we are aware of all that is happening, we are able to propose initiatives or become involved with the neighborhood association. Our managers, franchisees and employees are often quite active and creative in this, as they are frequently from the neighborhood in question. For us, the emphasis is on Youth & Work, the Elderly & Contact, and Children & Health.
Activities for a cleaner and safer neighborhood
National Clean-up Day
NederlandSchoon has organized the 15th National Clean-up Day to take place on March 25. Throughout the Netherlands, municipalities, local residents and businesses took to the streets to deal with the issue of litter and to call attention to the need for cleaner neighborhoods. Employees of Albert Heijn have committed themselves to this for many years and with great enthusiasm. It doesn't take much time, it results in a cleaner neighborhood and grateful residents, and it is often a fun experience!
This is why our supermarkets use the National Clean-up Day to their advantage and see it as a great way to inform the local residents about the importance of cleanliness. For example, we organize clean-up activities for children where they learn, in a playful manner, how important a clean neighborhood is. Other Albert Heijn supermarkets display National Clean-up Day posters and arrange for the local residents to pop in for a cup of coffee once the clean-up is completed. Each store does what suits its neighborhood and customers best.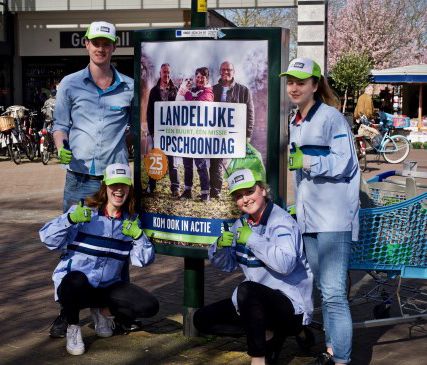 Sebastiaan de Jong, Regional Manager of Albert Heijn, and Jozias van Aartsen, former Mayor of The Hague, sign a letter of intent.
Albert Heijn and the Municipality of The Hague collaborate on making a better neighborhood
The Mayor of The Hague and the Regional Manager signed a letter of intent in 2017 to strengthen the cooperation. The agreement: to make the neighborhoods surrounding Albert Heijn stores in The Hague safer and cleaner. In addition, Albert Heijn and the municipality committed themselves to making healthy food and drinks more appealing to the residents of The Hague. We will also invest in projects that will offer youngsters a better perspective on the labour market. Albert Heijn finds it important to encourage the youth and help them find work and traineeships.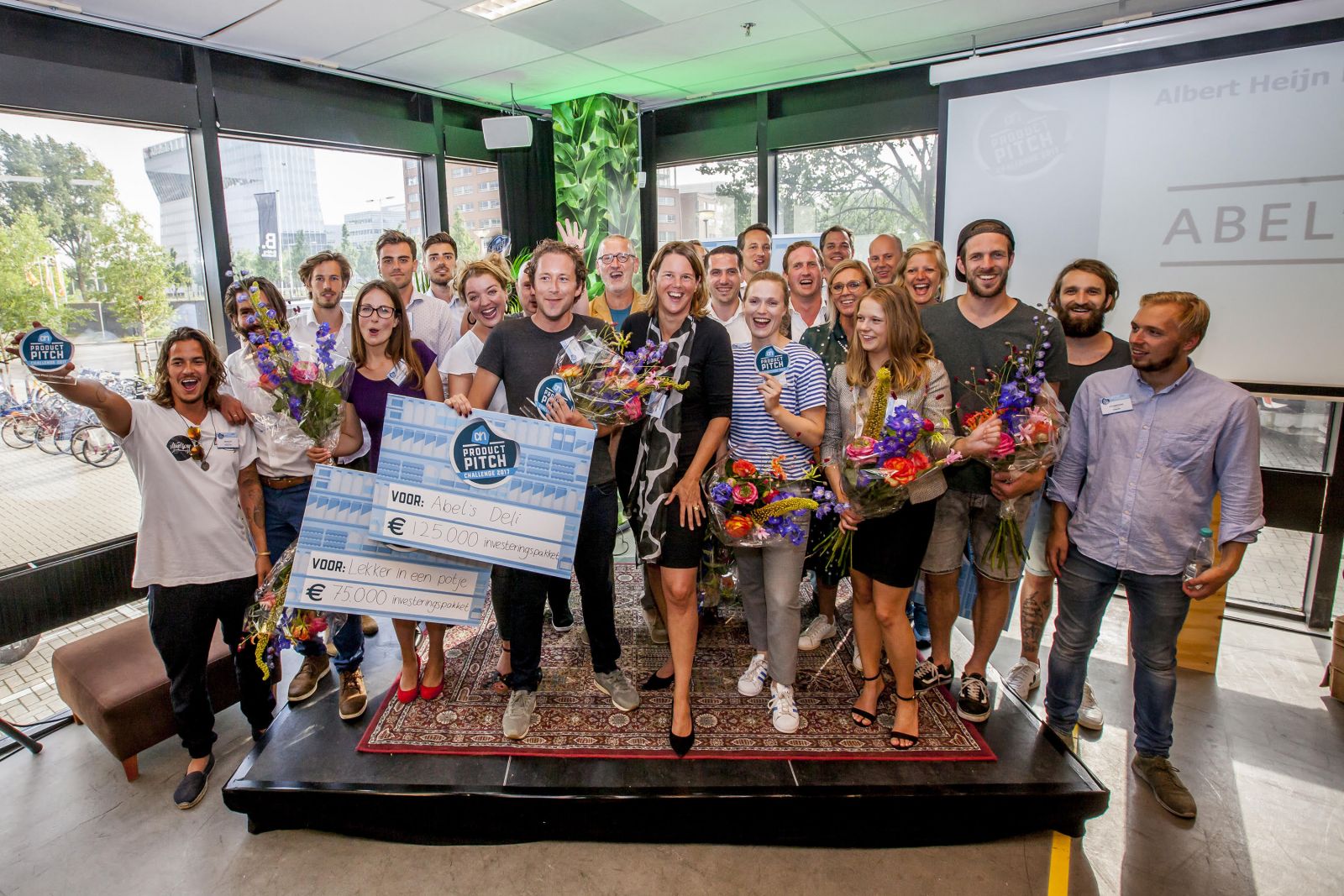 Contestants on the day of the final of Product Pitch 2017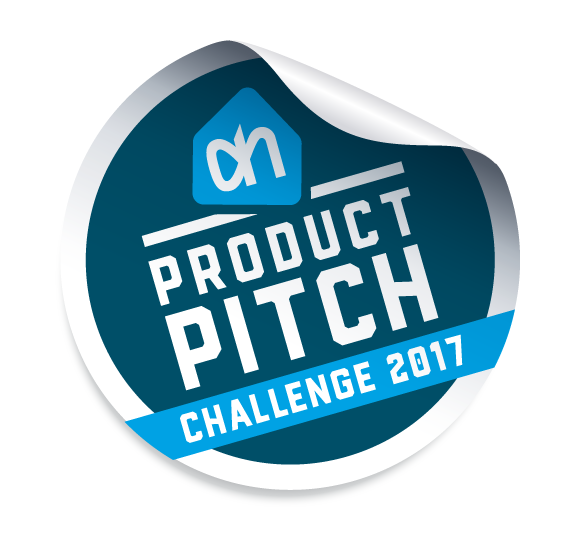 Product Pitch
Product Pitch is an Albert Heijn initiative aimed at encouraging entrepreneurship. Albert Heijn organized the second edition in 2017 and the goal was to offer young entrepreneurs the opportunity to win a spot on the shelf. Small entrepreneurs, as well as employees and customers, that have a product or idea were given the chance to present it. Subsequently, they could let their product or idea evolve into the next phase. Winners received an investment package, exclusive shelf space and coaching in order to realize their growth plans. Former winners are Abels Deli and Kaas in 't Bakkie.
Youth & Work:
In collaboration with JINC
All youngsters deserve a fair chance on the labor market! This is why we expanded our collaboration with JINC to include more cities in 2017. JINC and Albert Heijn offer various learning projects for children from the age of eight to sixteen: Language trips, Job Application Training and Fast Track Traineeships. And it's going well! Last year, during the JINC Award Show in The Hague, we won the JINC Partner 2017 Award.
Exam training
In addition to offering work experience, we want to encourage secondary school students to obtain their diplomas in order to be better prepared for the labor market. 'Your exam', an initiative of various professors and Dutch universities, will help secondary school students as they prepare for their final exams. The online training clearly explains the subject matter using short video clips. Teachers will answer questions online during special 'Q&A' moments.
More than 1,180 Albert Heijn employees followed this training in 2017 and were well prepared for their coming final exams, more so than ever before. In addition to the online exam assistance, Albert Heijn employees were given the opportunity to follow final exam classes in the libraries of The Hague, Rotterdam, Amsterdam and Utrecht free of charge. During these lessons, questions were answered and trial exams taken. The exam candidates also received a voucher for a one year library membership.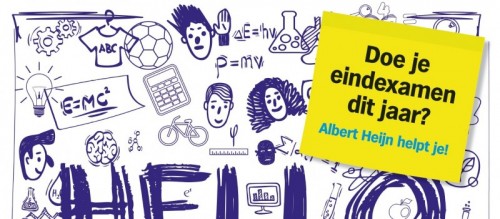 Eating experiment
In order to encourage employees to eat healthy, Albert Heijn organized the eating experiment. Nutrition coaches answered questions about nutrition and experiences were shared on Facebook. 1,700 employees in total participated in the experiment.
The Elderly and Contact:
Dementia-friendly stores
In 2017 and in collaboration with Alzheimer Nederland and Samen Dementievriendelijk, we again committed ourselves to a dementia-friendly society. We want our customers to do their own grocery shopping for as long as they are able. This is why we have trained our employees in recognizing and dealing with dementia, so that this vulnerable group will also feel as comfortable as possible in our stores.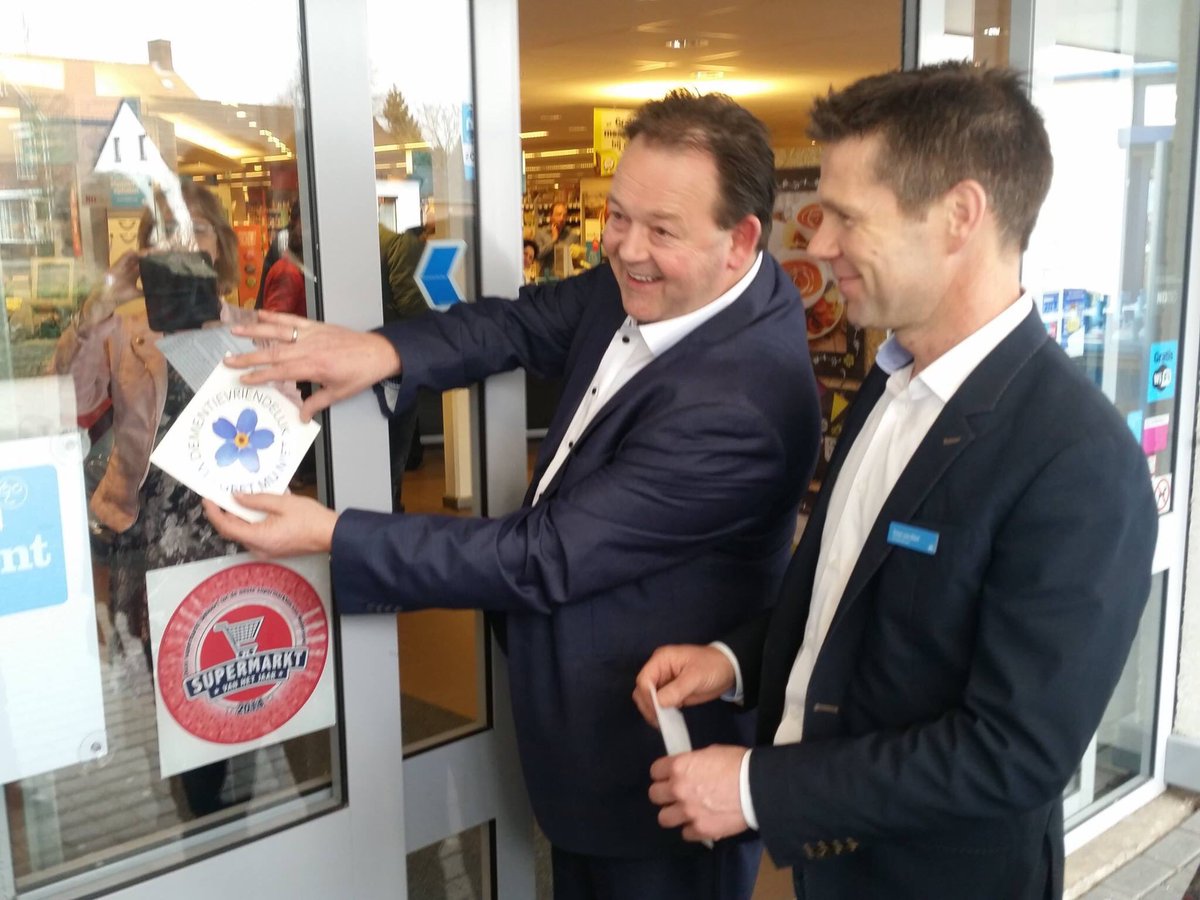 Supermarketmanager Twan van Meel and Alverman of Dimmelen, John van Oosterhout, place the Dementia-friendly sign.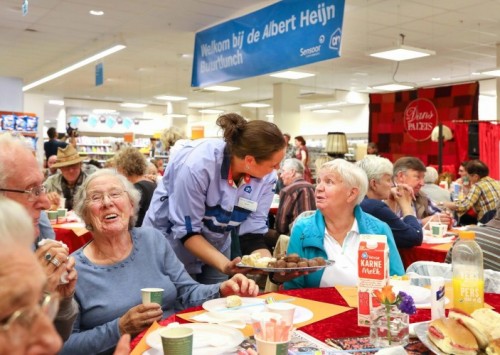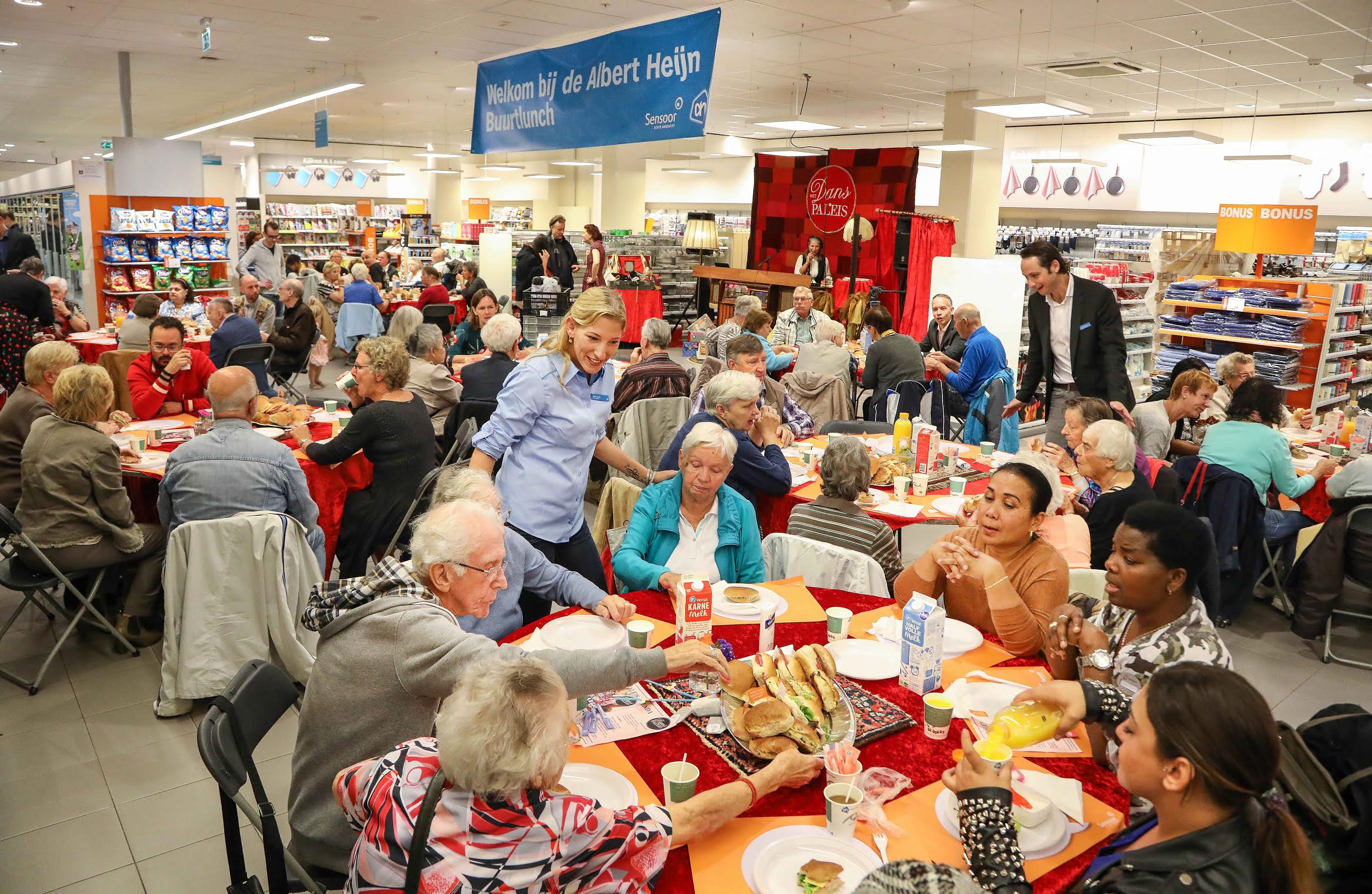 Appie's impact
In collaboration with Young Impact, we are trying to motivate our young employees to help the elderly in the neighborhood. In 2017, youths could earn a ticket for the Celebration in the Ziggo Dome in this way. More than 200 youngsters participated last year!
Week against loneliness
Inspired by the successful challenge of Young Impact, 500 Albert Heijn stores organized neighborhood lunches, 100 of which were in collaboration with Stichting Sensoor. More than 1,000 Sensoor volunteers functioned as sounding boards while our employees took care of the lunch.
Supervised shopping
Most elderly want to do their own shopping but some of them aren't able to. Menzis, the Albert Heijn stores in Twente and Stichting Informele Zorg Twente help the elderly to do their own grocery shopping. Volunteers collect the elderly from their homes and drive them to an Albert Heijn store.
Video duration: 2:28 minutes
Linking during Christmas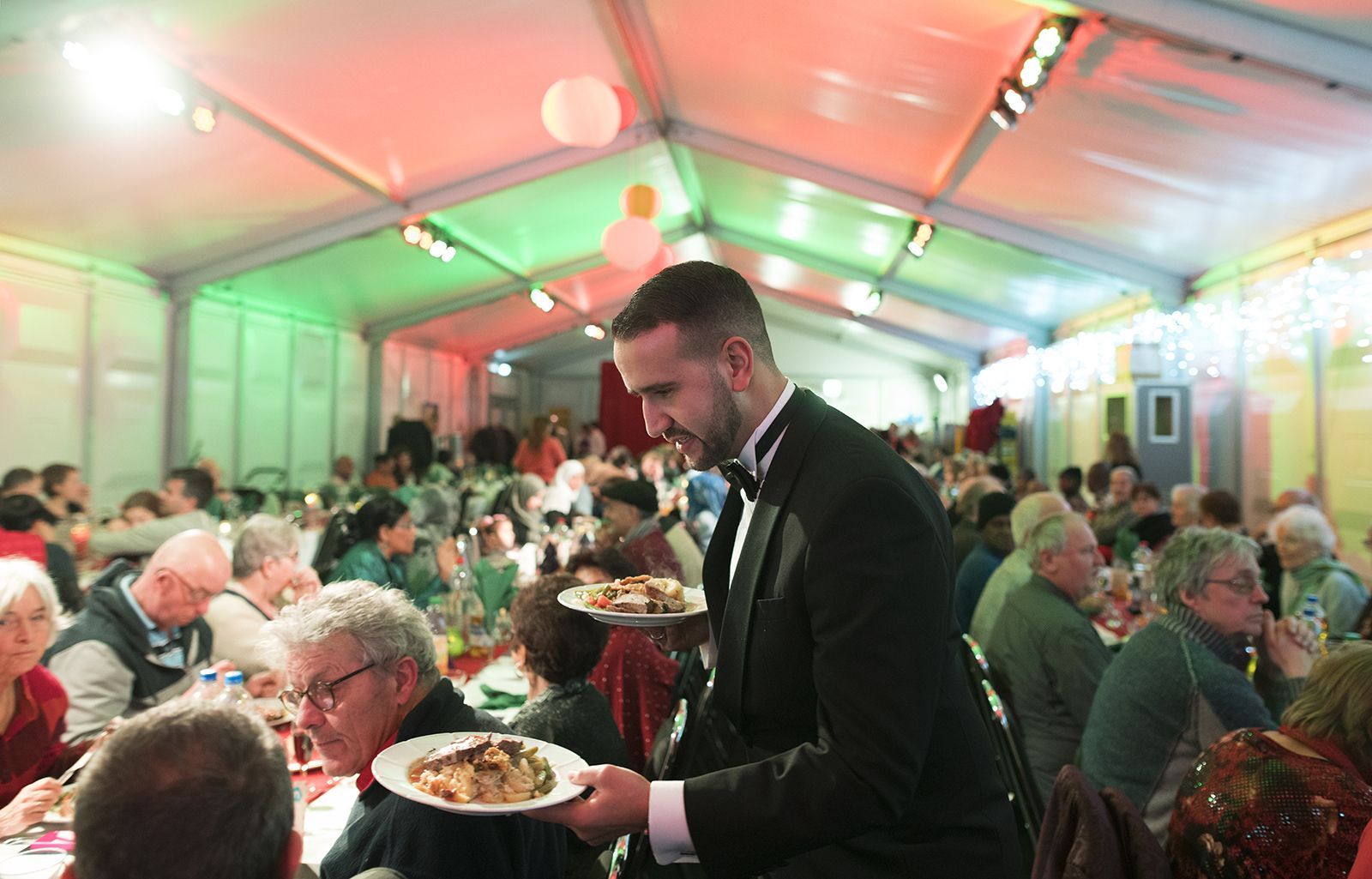 We enjoy working hard to connect with the neighborhood throughout the year, including the Christmas period. More than 400 stores organized gatherings during the Christmas period, in the form of a breakfast, lunch, get-together or dinner. In this respect and in collaboration with the Municipality of The Hague and Resto van Harte, the Albert Heijn stores in The Hague organized a Christmas dinner for 400 townspeople, with our own staff as volunteers.
Video duration: 3:25 minutes
Placing your shoe for Sinterklaas
Care home the Reyshoeve was in for a lovely surprise during Sinterklaas. Albert Heijn filled the shoes of the residents with a chocolate letter and a poem at the front door of their own apartments! Neighborhoodchildren helped in this act.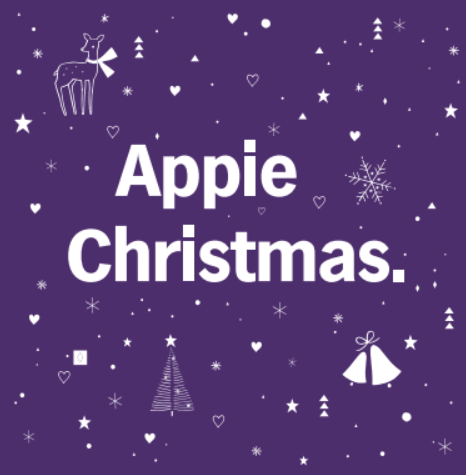 Children and health
Everyone should have access to healthy food. Albert Heijn would like to fulfil a role in this, which is why we also participated in various health initiatives in 2017.
Youths and a healthy weight
As one of the partners of 'Jongeren Op Gezond Gewicht' (JOGG), we inspire young people to eat healthy and exercise more. In this respect and in collaboration with the Municipality of The Hague, the ministries of Social Affairs and Public Health and Jongeren op Gezond Gewicht, Albert Heijn made 550 toddlers and their parents very happy. They were given colorful bags as a surprise, containing an Albert Heijn vegetable box and a JOGG crafts package. The vegetable boxes contained vegetables, information about healthy food, recipes and a small cutter to cut out cute vegetable figures. During a working visit to toddler playroom De Wildebras, parents and toddler teachers were asked about the foodbehaviour of the toddlers.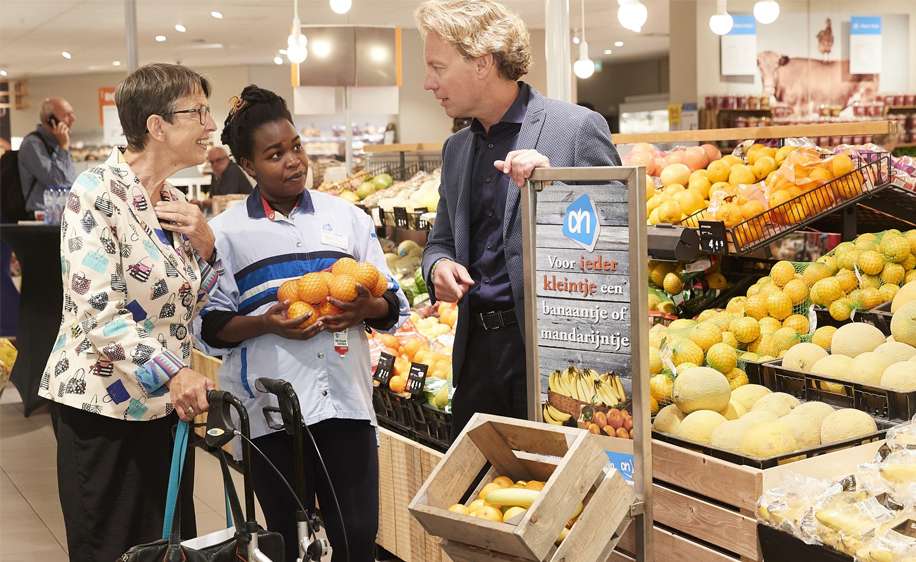 Albert Heijn and State Secretary Klijnsma join forces to provide the youth in poor neighborhoods with healthy nutrition. Visit of State Secretary Klijnsma to Albert Heijn Utrecht Kanaleneiland on June 23, 2017.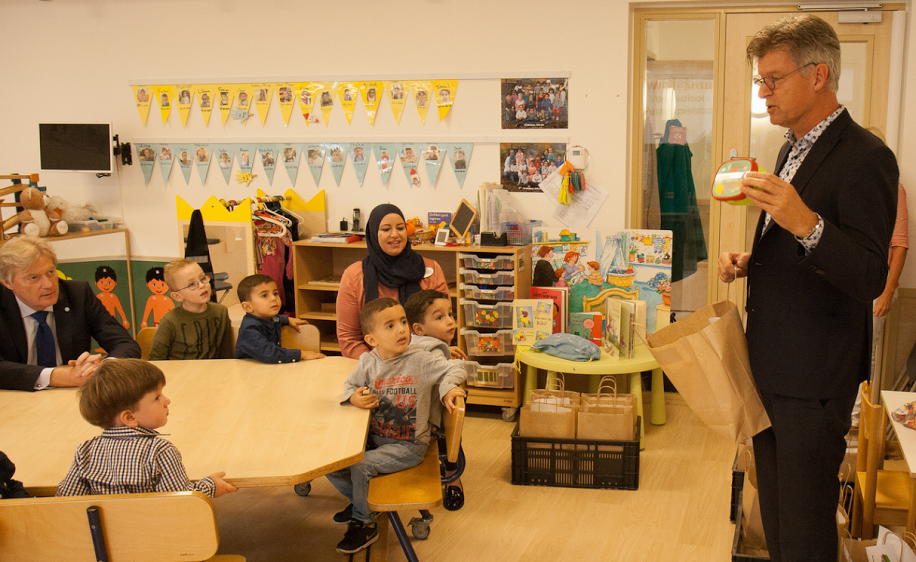 On 21 September, State Secretaries Klijnsma and Van Rijn, accompanied by Alderman Baldewsingh, Johan de Visser from Albert Heijn and Marjon Bachra from Jongeren op Gezond Gewicht (JOGG), paid a visit to toddler playroom De Wildebras in The Hague, where the first vegetable boxes were handed out.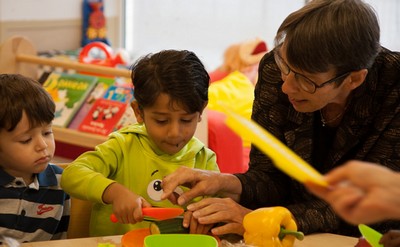 State Secretary Klijnsma helps kids explore the vegetable box.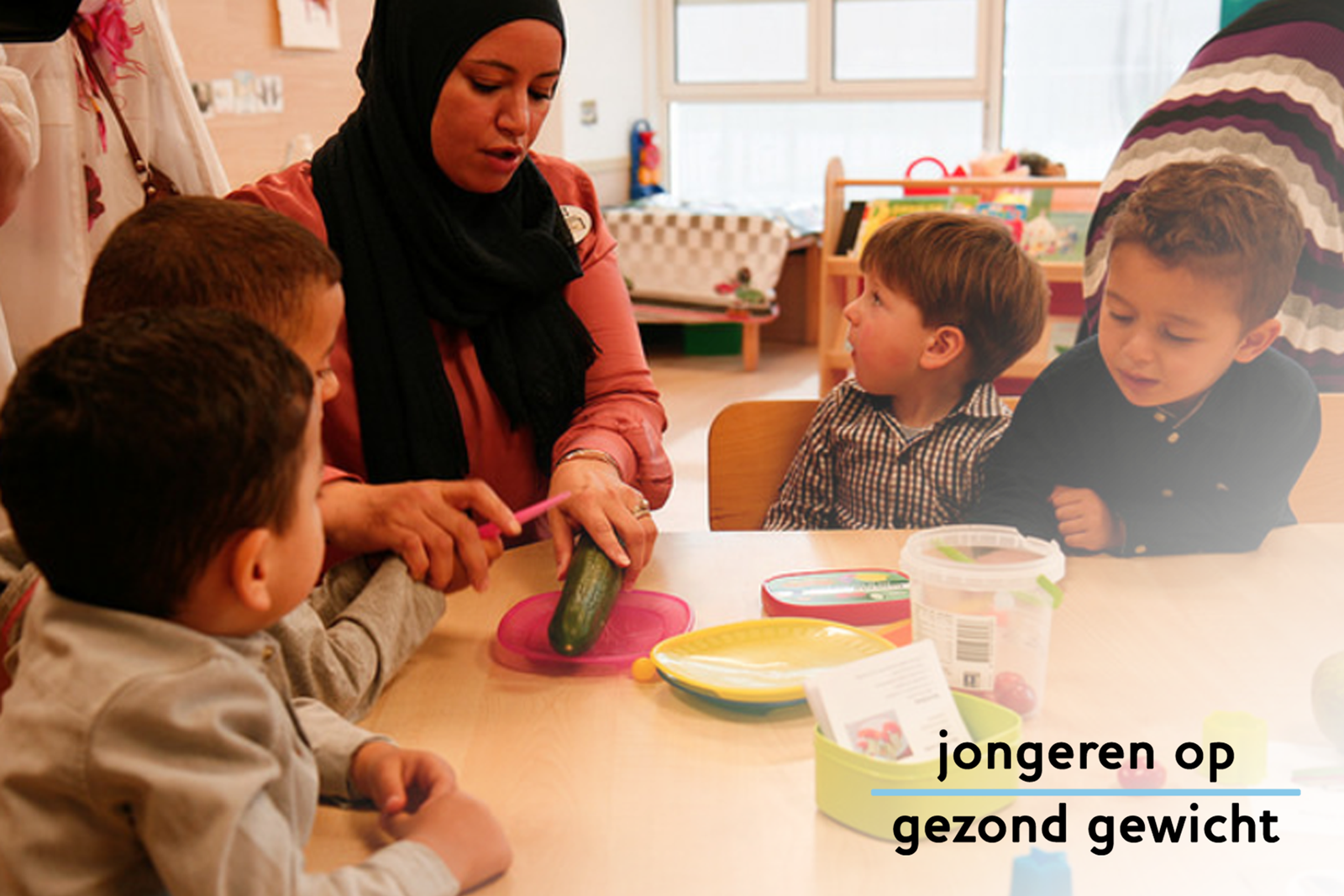 510 children received vegetable boxes.
I eat better
One of the initiatives to make healthy eating more attractive is the 'I eat better' program in cooperation with the Netherlands Nutrition Center. A total of 200.000 children devided over 2.500 elementary schools participated in this program. Students from grade 5 to 8 follow a fun and appropriate class in healthy food. In kitchen gardens, the students from grade 5 learn to grow their own vegetables and flowers. Grade 6 focusses on exploring new flavours. Grade 7 students turn into young researchers and through small experiments in their 'testlab' they find out what nutriciants and fibers do for their body. The 8th graders learn about the fact that healthy food isn't only fun, but can also be easy in their 'Top class lunch'.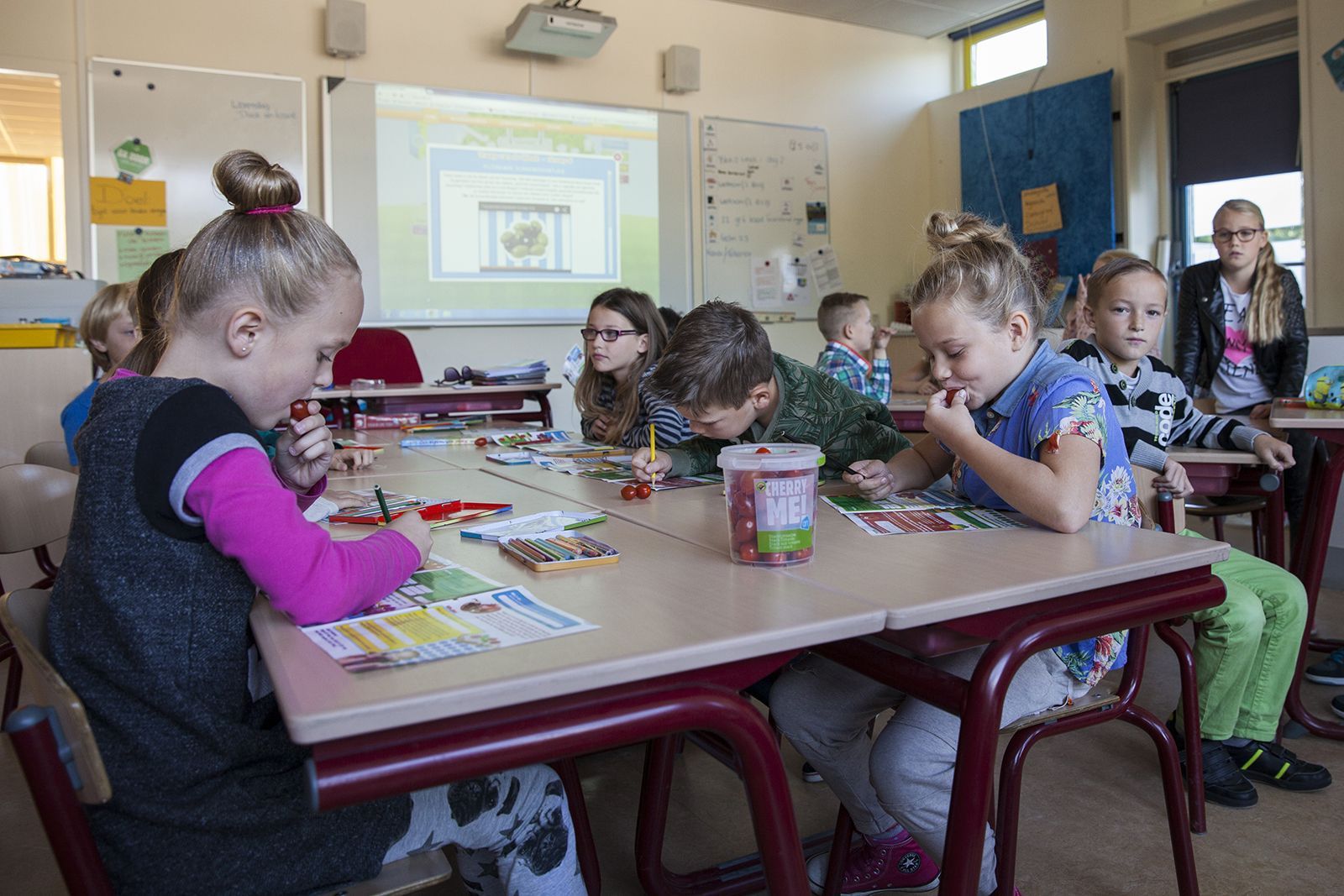 Nutrition coach
The conclusion of the evaluations made by Albert Heijn in 2017 indicated that a supermarket coach helps youths to opt for healthy food. We took certain measures last year to enable the supermarket coaches to get started in three stores in Amsterdam. A challenge among young people will be organized in 2018. As from now, we will also monitor whether the coaches can influence the behavior of their colleagues.
Goedzak
In collaboration with Goedzak, Albert Heijn will organize a national toy collection in November and December. Customers can hand in their old toys at participating Albert Heijn stores. The stores will donate the toys to a local charity of their choice, such as the Voedselbank, a day-care center or a community center.
Outdoor play
No less than 175 Albert Heijn stores participated in the national Outdoor Play Day, organized by Jantje Beton. They offered various outdoor play activities around the stores. More than 100,000 children participated. We also like to participate in the evening four-day marathon each year by distributing bottles of water and fruit.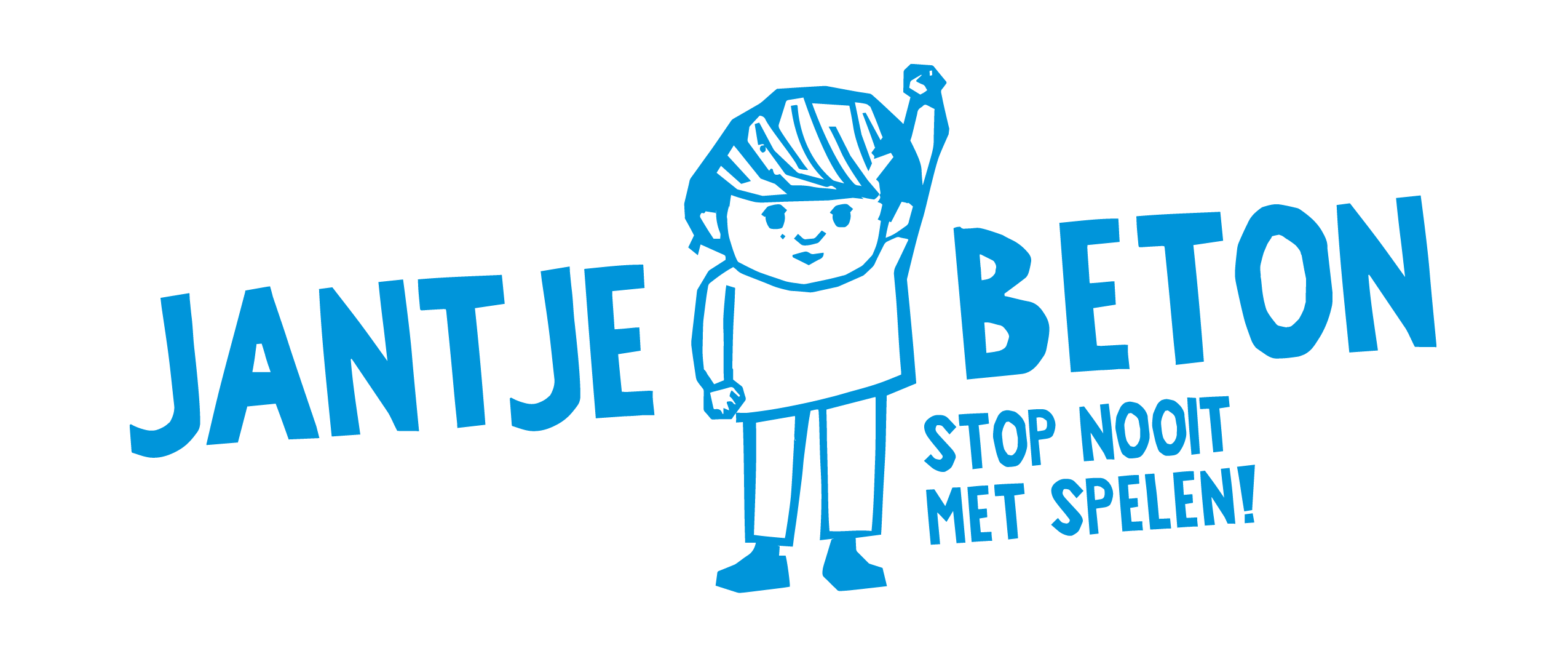 Children's Council
The Children's Council is an initiative of Princess Laurentien and the Missing Chapter Foundation, an organization aimed at giving children the opportunity to speak on issues important to them. Albert Heijn supports this initiative. The children share their thoughts with the Management Board in a structured manner on the subject of strategic dilemmas in the field of health.
At the honour of Albert Heijn's 130 year existence, princess Laurentien tells about the Children's Council and discusses the future of healthy food with the students of an elementary school.