Healthier diet, healthier life
With over 950 stores, Albert Heijn has the largest supply of fruit and vegetables in the Netherlands. Our delicious, healthy, sustainable and affordable products find their way onto around five million plates every day. Our aim is to help increase awareness among customers and employees in regard to their diet and lifestyle. We do this by offering a wide range of fresh products, by providing information on healthier options and by giving inspiration for a more active lifestyle. Wherever possible, Albert Heijn's own-brand products contain less sugar, saturated fats and salt. The flavour has also been improved.
Product range
Healthier products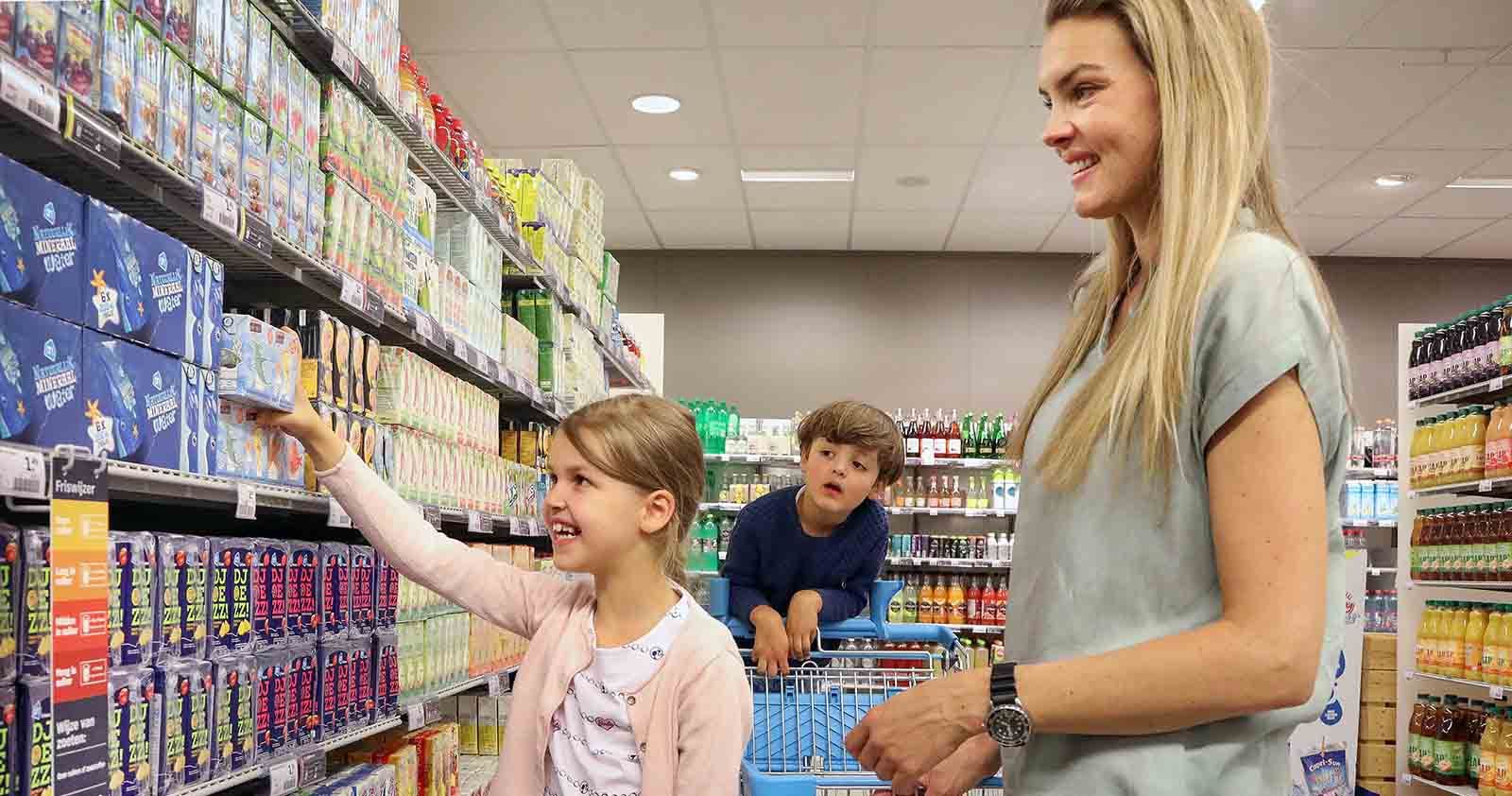 Since 2012 we have reduced the content of salt, saturated fats and sugar in our own-brand products and we have removed unnecessary additives. For example, our pizzas and ready meals now contain 25 percent less salt. We have also removed the sugar from products that are popular with families, such as yoghurt and custard.
The largest projects aimed at reducing sugar in our own-brand products in 2017 concerned soft drinks, juices, tinned vegetables and pasta sauces.
The soft drinks indicator that we introduced in 2016 can now also be found next to the shelf with children's soft drinks and juices. You can see at a glance how much sugar a product contains. The soft drinks indicator is one of the methods we use to inform customers about healthier options. With this we are also trying to give inspiration for a healthy lifestyle. Soft drinks sales stayed at the same level last year, although the kilograms of sugar per hectolitre dropped by 7 percent.
Friswijzer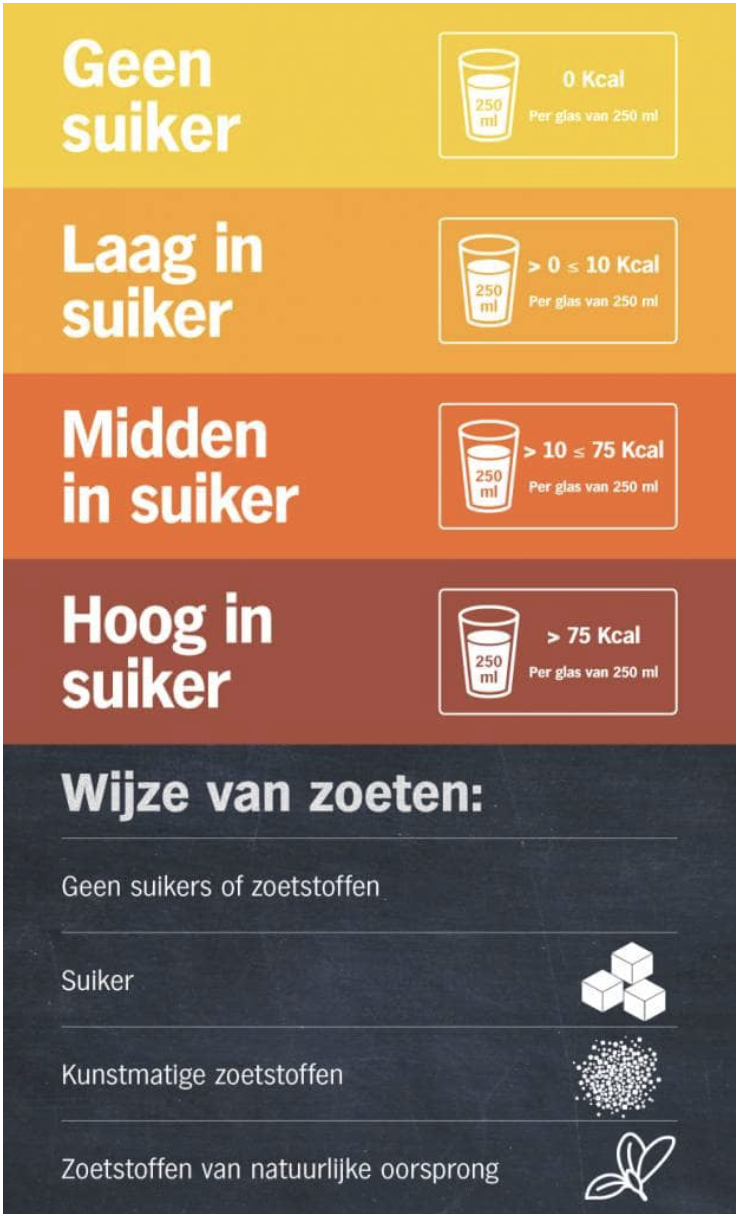 Albert Heijn teaches and informs
Fibre meter
Albert Heijn introduced several promising changes on the bread counter in 2017. The fibre meter was placed on all fresh daily bread, fresh daily gluten-free bread was introduced, and we launched a new concept for oven-base baked bread. Besides white, this concept now also includes multigrain and wholegrain varieties. Furthermore, a firm multi-wholegrain bread is now also available every day.
Albert Heijn supports Food Top ambitions
During the Dutch National Food Top in 2017, we entered into agreements with the business community and other concerned parties about healthier, more sustainable and more transparent food. Together we will do everything in our power to make the Netherlands more healthy.
Round table discussions National Prevention Agreement
The Dutch government works on a prevention agreement with main themes such as smoking, obesity and excessive alcohol consumption. At the invitation of the State Secretary for Health, Welfare and Sport, Paul Blokhuis, Albert Heijn joined one of the roundtable discussions on this subject.
Aiming for 250 grams of vegetables!
In 2017 raising vegetable consumption was a high priority in the Netherlands. Dutch people eat on average only 127 grams of vegetables a day, whereas this amount should be 250 grams.
We have therefore developed the following initiatives: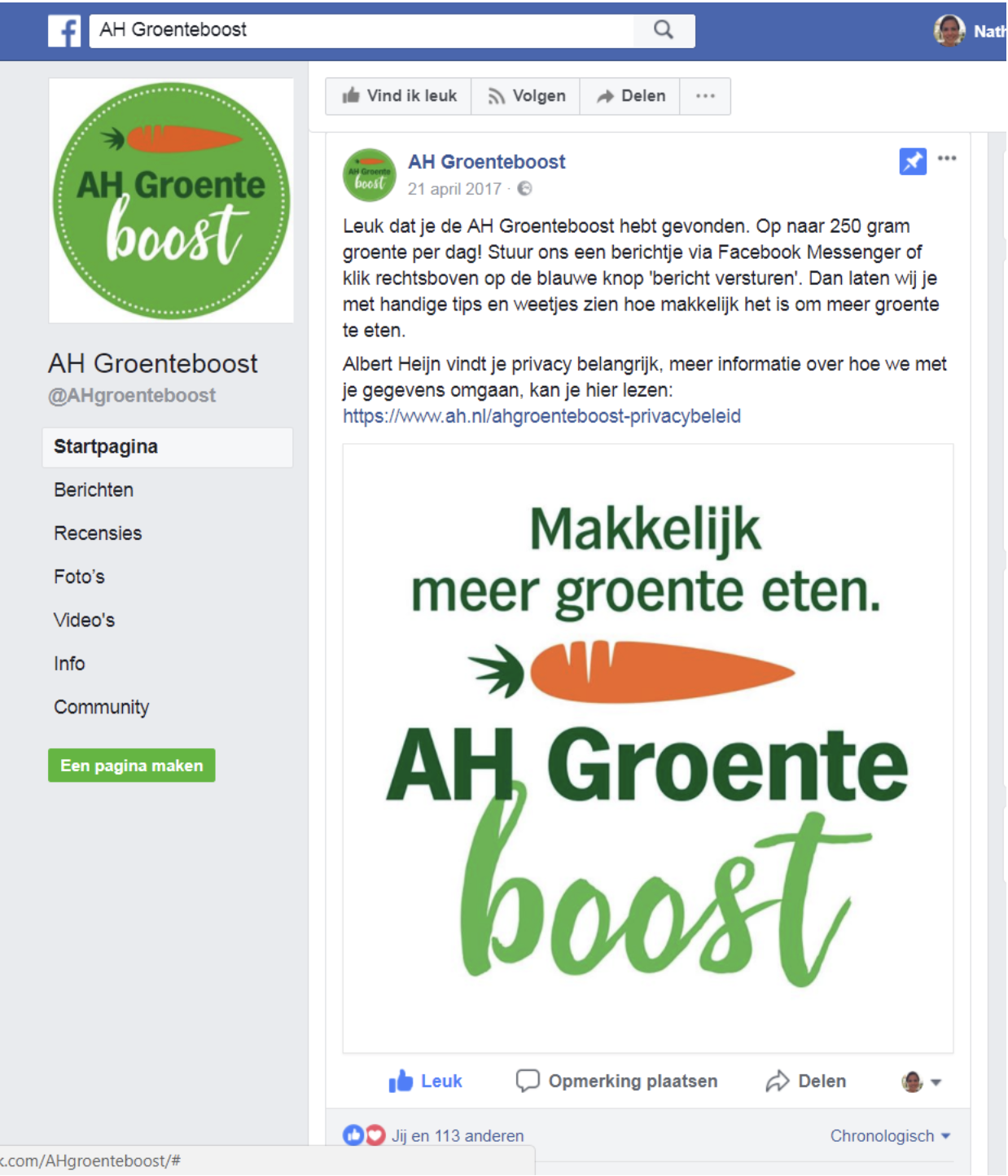 The AH Vegetable Boost via Facebook Messenger
Via Facebook Messenger, customers receive tips, fun facts, inspirational films and recipes using lots of vegetables. With this approach, Albert Heijn is making vegetable consumption more accessible and is showing that eating vegetables is not only easy but also tasty.
Renewed vegetable assortment
Besides 'ordinary' vegetables, Albert Heijn customers can now find more and more products that contain vegetables. This is the perfect way to increase vegetable consumption unnoticed. For instance, the 2017 Jaarprijs Goede Voeding (Good Food Annual Prize) was awarded to zucchini spaghetti and cauliflower and broccoli rice, and other examples include fresh spreads, fresh packets, fresh soups, pasta sauces, curries and cups of snack vegetables.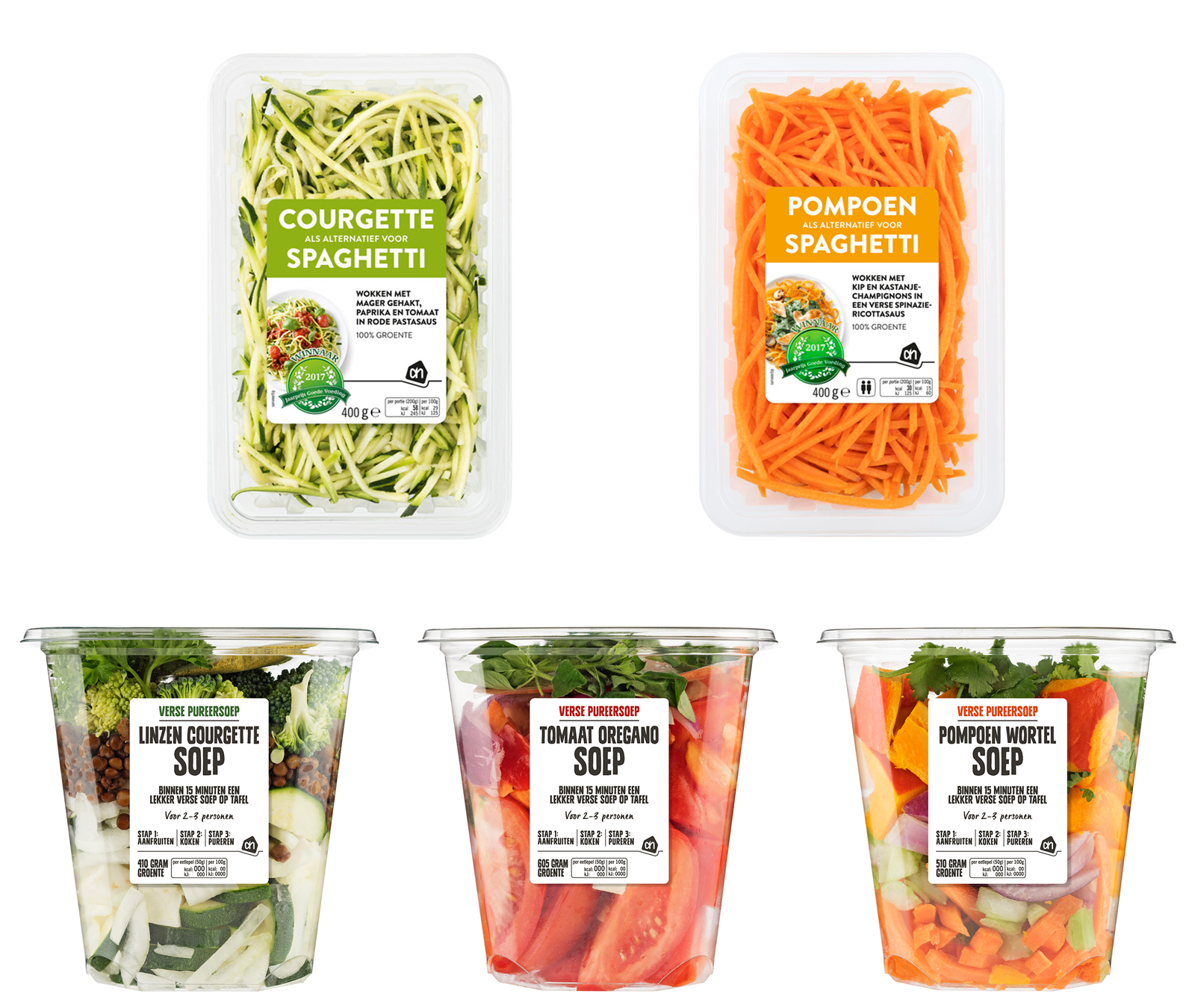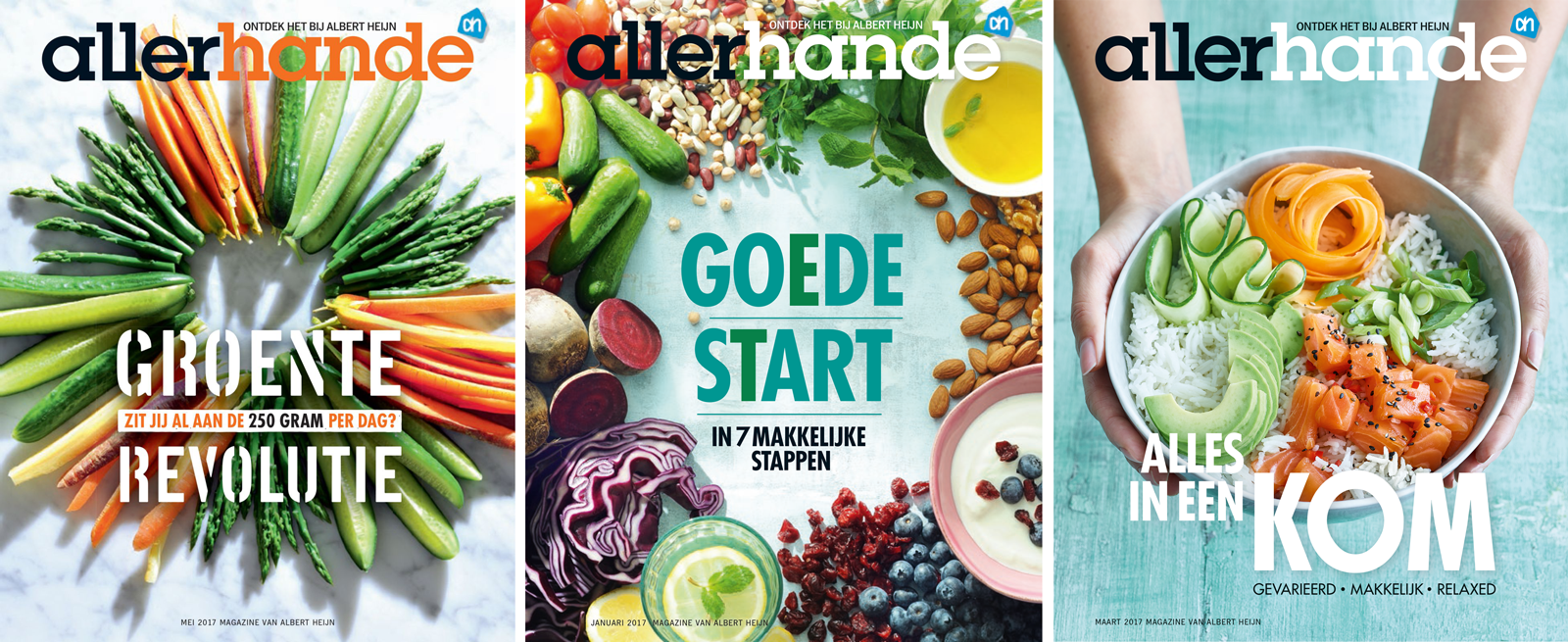 Allerhande Vegetable Revolution
The May 2017 edition of Allerhande was completely devoted to vegetables. When it comes to vegetables, everyone has his or her own preference. With delicious, healthy and easy recipes. Albert Heijn helps and inspires people to try different vegetables and eat them more often.
Plenty of help with the kitchen gardens
Last year the vegetables plants were again offered to customers, including several new varieties such as mangetout, dill, cavolo nero and bok choy. Assistance came from all angles, with a special app, short films on Appie Today and a booklet full of tips. The kitchen garden experts from Dutch nature education organisation IVN were also ready to answer any questions on how to grow the vegetables and flowers.
Albert Heijn's online video channel Appie Today helps viewers of this episode with gardening hacks for their kitchen gardens.
Video duration: 0:43 minutes
Largest Vegetable Stall
During the annual Dutch Agri Food Week (DAFW) in 2017, together with Albert Heijn the starting shot was given on the Vredenburgplein in Utrecht for the largest vegetable stall in the Netherlands - a 200 metre long market stall filled with vegetables. Farmers and market gardeners, entrepreneurs from the supply and processing industries, retailers, government organisations and scientists all witnessed what is needed 'from soil to mouth' in order to produce nutritious and delicious food. At the stall, visitors could buy a bag filled with fresh vegetables of their choice for three euros. The proceeds went to the Utrecht Foodbank. At the end of the day, the remaining products were donated to Foodbank Netherlands.
Further initiatives in 2017 for a
healthier lifestyle:
Netherlands in motion with Dutch Olympic committee NOC*NSF and Albert Heijn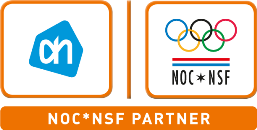 Dutch Olympic champion in hockey Naomi van As brings the Dutch in motion with the Sport Swap, supported by Albert Heijn and NOC*NSF
Video duration: 2:16 minutes
NOC*NSF and Albert Heijn have a common goal, which is to make a more active lifestyle accessible to all Dutch people by removing barriers to sport and exercise. To achieve this goal, they jointly organised the AH Sportactie: a national savings scheme whereby Albert Heijn customers received an AH sports stamp with every 10 euros of groceries. 10 stamps were needed to fill the stamp card. Each full stamp card provided access to five free sports sessions, thereby introducing the customers to numerous local sports clubs.
Allerhande Kids Cooking Battle 2017
On Wednesday, 18 October 2018, five teams in five AH XL branches competed for the title of Allerhande Kids Chef 2017. The children cooked up plenty of culinary treats and all of them presented a tasty, healthy recipe to the jury. All regional winners were awarded a handsome trophy, and in December they came together for the cookery workshop at the Allerhande Christmas Festival.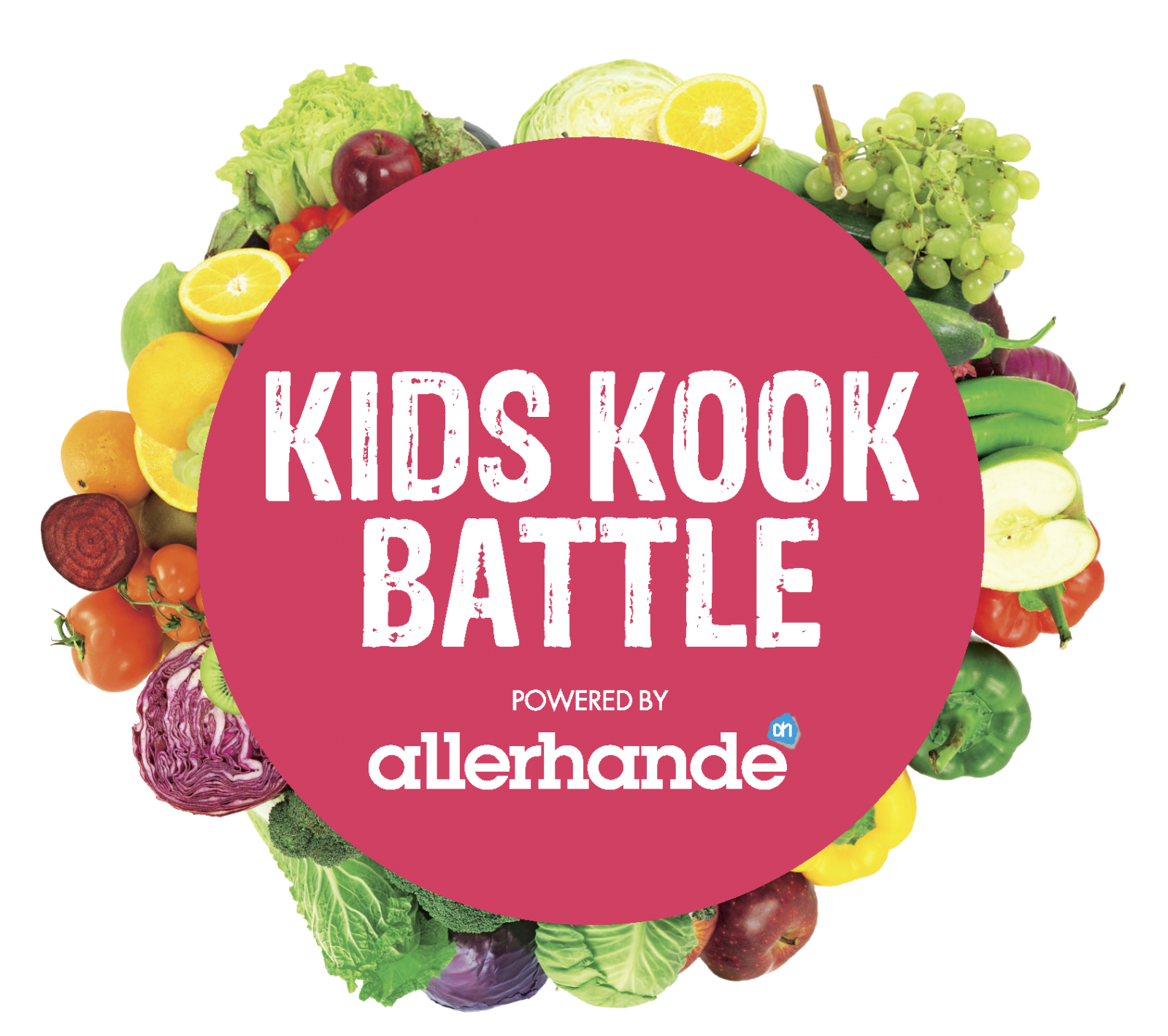 Video duration: 1:13 minuten